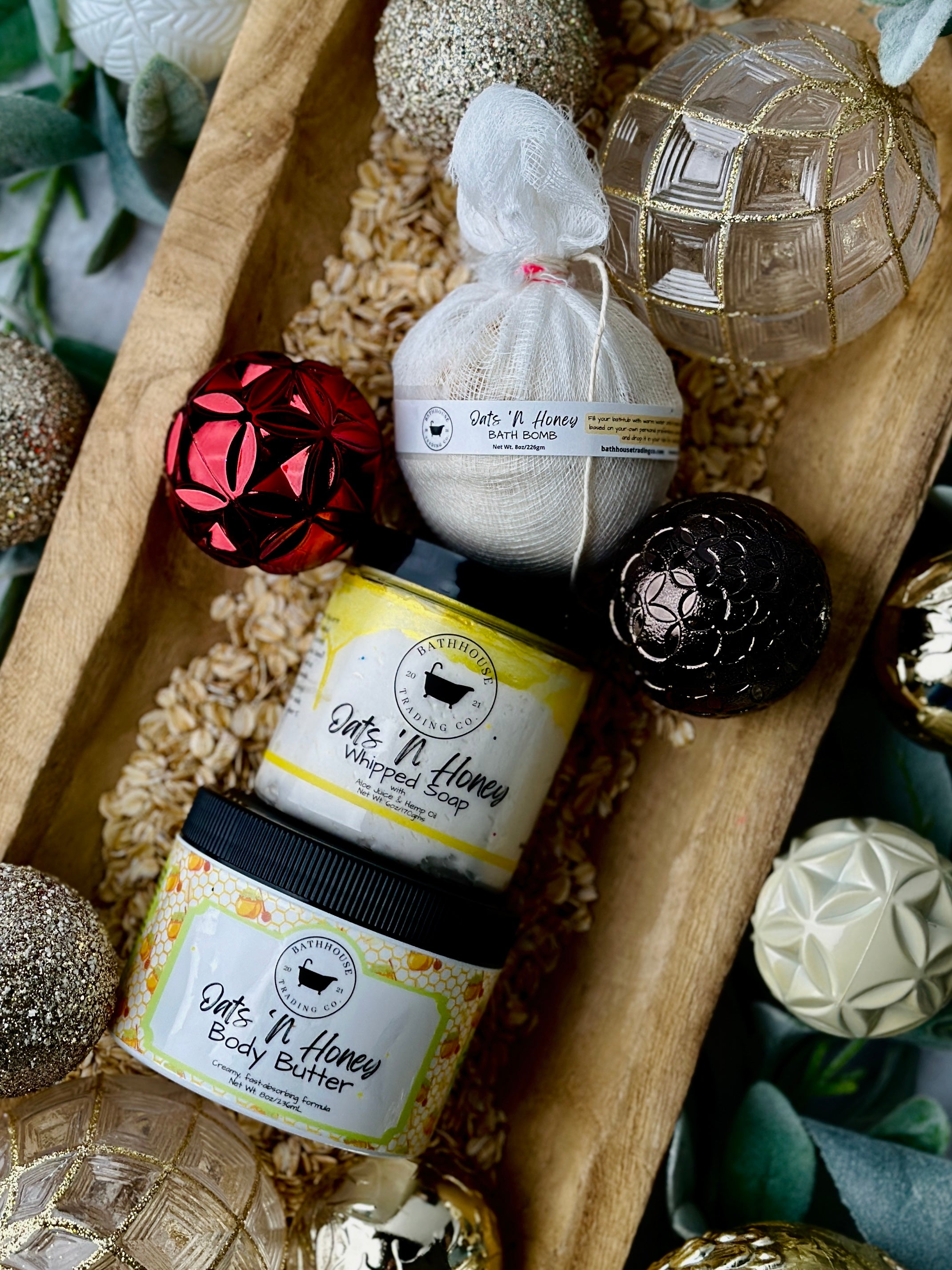 Oats 'N Honey Holiday Bundle
Indulge your senses and revitalize your skin with our Oats 'N Honey Holiday Bundle, a luxurious spa experience packaged just for you. This bundle is thoughtfully curated to provide a holistic approach to skincare, bringing together natural ingredients that will leave you feeling refreshed, rejuvenated, and glowing. Whether you're treating yourself or searching for the perfect gift, our Oats 'N Honey Holiday Bundle is the ultimate choice for skin-loving pampering.
Soft, sweet golden honey and orange notes open the senses, followed by the well-rounded warmth of amber and oats.

What's Inside:
Oats 'N Honey Body Butter (8oz): Our body butter is a luscious treat for your skin. It's enriched with the goodness of oat extract to moisturize and hydrate, leaving your skin feeling soft and smooth. This non-greasy formula ensures you can enjoy long-lasting hydration without feeling oily or sticky.

Whipped Soap (6oz): Step into the shower with our luxurious whipped soap, made with aloe juice, hemp oil, and chamomile extract. This gentle, yet effective, cleansing formula will soothe and pamper your skin while providing a spa-like experience every time you use it.

Oats 'N Honey Bath Bomb (8oz): Elevate your bath time with one of our favorite bath bombs. Infused with honey, hemp oil, and colloidal oats, this fizzy delight will turn your bathwater into a silky oasis. Left in its clothe, it releases nourishing ingredients that will envelop you in relaxation, leaving your skin feeling silky and radiant.

Exfoliating Loofa Sponge: Enhance your cleansing routine with our exfoliating loofa sponge. Gently remove dead skin cells, stimulate blood circulation, and reveal your skin's natural glow. It's the perfect complement to the rest of the bundle.
See photo with listing for ingredients